My Little brother came home from his mission to Mexico City last night!! We are all excited to have him home! I'll have some pictures up soon. He is an amazing guy, and just by being around him I can see how much he has grown and I can tell he was a great missionary.
One more thing I thought I would share…something to go down in the books. The cook books. I am always trying to find new recipes, and the other day I went out with Preston behind our condos and picked a bunch of blackberries. They are no Oregon blackberries, but they'll do. There were not enough of them to make it worth getting out everything for jam, so I found a crisp recipe. It was really good!! I am the biggest fan of the crumbly goodness on top…and this recipe had PLENTY. So I thought I'd share.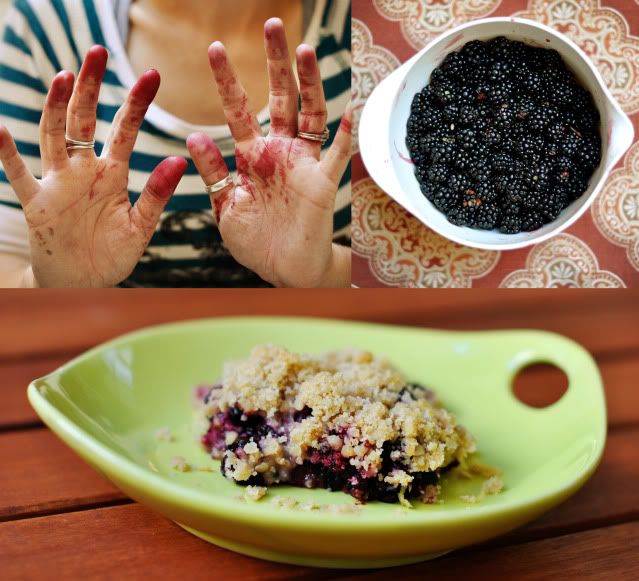 INGREDIENTS
4 1/2 cups fresh berries
4 tablespoons white sugar
2 cups all-purpose flour
2 cups rolled oats
1 1/2 cups packed brown sugar
1 teaspoon ground cinnamon
1/2 teaspoon ground nutmeg
1 1/2 cups butter
DIRECTIONS
Preheat oven to 350 degrees F (175 degrees C).

In a large bowl, gently toss together blackberries and white sugar; set aside.

In a separate large bowl, combine flour, oats, brown sugar, cinnamon, and nutmeg. Cut in butter until crumbly. Press half of mixture in the bottom of a 9×13 inch pan. Cover with berries. Sprinkle remaining crumble mixture over the berries.

Bake in the preheated oven for 30 to 40 minutes, or until fruit is bubbly and topping is golden brown.
ENJOY!